I love to cute-ify the worksheets and forms I use in my classroom. This year I created a new spelling test form for my students. I created several others and uploaded them to Teachers Pay Teachers as a freebie! (Also available on Teachers Notebook)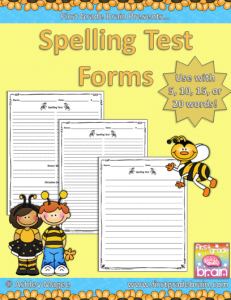 Included in this FREE file are spelling test forms for tests on 5, 10, 15, and 20 words! Also included are tests with 10 words + 2 bonus words and 10 words +2 bonus words + a dictation sentence. These are forms I have been using in my classroom. I also added a couple of dictation sentence optional pages that could be copied on the back of a test of your choice.  Here are a few examples:
I hope someone out there finds it useful!